The first pet I ever owned was a cat. I found him in a dumpster behind our local Little Caesars pizza place. After he died I went out to get another and ended up with four. I love cats! I think they're great, and back in 2009 they served as the inspiration of a personal portfolio website I launched called "CuriosityKillz.com". It was originally intended to be a portfolio site that featured 9 different humorous illustrations of cats doing something curious moments before they're deaths. It sounds worse than it really was. There was a monster in the closet, and a cat pressing a self destruct button on a the space station, really far fetched, silly illustrations. Still, there were those who found absolutely no humor in it whatsoever, including the anonymous poster who threatened me with physical harm and death (no, I'm not kidding). If you're interested you can read my original post about the site here.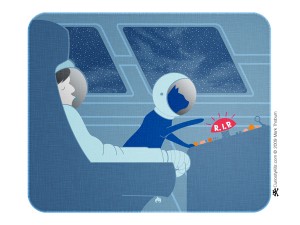 The site sat dormant for two years dying a slow death (pun absolutely intended). Recently, I was persuaded to enter an international comic strip competition. I was interested, but had no idea what I could use as my subject matter. Then it hit me, Curiosity Killz would be perfect. I decided to completely scrap all of the original illustrations and change the entire concept. Rather than create single panel full colored artwork, I'd turn it into a 3 panel comic that followed the same theme for every single comic. Cat's sees something curious, that curiosity gets the best of him, cat dies. The original site featured a smoking cat and this would serve as my first comic.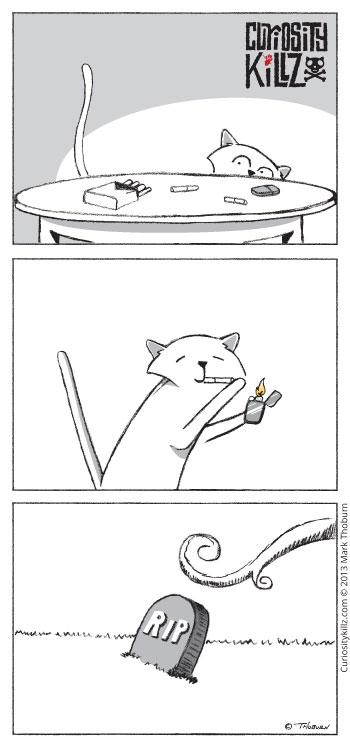 Before long I had come up with over 50 ideas (and was still writing down more on the backs of each comic). It is my intention to publish all of these comics, as often as I can get them done, to the newly redesigned CuriosityKillz website. So go check it out and be sure to bookmark it so you can check out the latest comic.
As for the competition, it starts on Monday February 11th and can be found here.